Are you thinking about giving your bathroom a fresh new look?
The renovation process can be exciting, but you may be wondering how long it will take to complete the project. The answer depends on the scope of your renovation.
For simple updates like new faucets and light fixtures, or a fresh coat of paint, you may be able to complete the job in just a day or two. But if you're planning a more extensive renovation, like installing a new shower or tiling the walls, it could take much longer. A complete gut and remodel can take an average of 2 to 3 weeks.
We've put together a helpful guide to give you an idea of how long it takes to renovate a bathroom, what factors can impact the timeline, and a breakdown of the major steps involved. Plus, we've included a list of the top 10 bathroom design trends to inspire your renovation. So, let's dive in and learn all about bathroom renovation!
Why renovate your bathroom?
The bathroom is one of the most important rooms in your home. It should not only be visually pleasing, but also functional and efficient. A bathroom renovation is a great way to enhance the aesthetics and functionality of your space.
Unlike other home renovation projects, bathroom renovations do not typically require major structural changes or tearing out walls, making them an easy and cost-effective option.
There are many reasons why you might consider renovating your bathroom. Some may have an existing space that is falling apart or leaking into other rooms, while others may simply be looking for a change.
Another reason is to make the bathroom more accessible for those with disabilities or aging in place. Additionally, some homeowners may want to improve energy efficiency by upgrading fixtures and appliances. Lastly, some may want to add luxurious features such as a spa tub or a walk-in shower.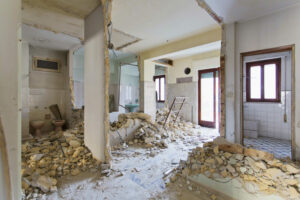 Factors you need to consider for renovating a bathroom
When it comes to renovating a bathroom, there are several key factors to consider in order to ensure that the end result is both functional and aesthetically pleasing.
First and foremost, it's important to consider the overall layout of the bathroom. This includes the placement of fixtures such as the toilet, sink, and shower or bathtub.
It's important to ensure that the layout is both functional and efficient, and that there is enough space for movement and storage.
Another important factor to consider is the type of materials that will be used. This includes everything from the flooring and tile, to the cabinetry and countertops.
It's important to choose materials that are durable, easy to clean, and suitable for the bathroom's environment. Additionally, natural materials such as marble, granite or travertine can be a great addition to your bathroom, giving it a luxurious and aesthetic look.
Lighting is also an important aspect of bathroom design. Not only does proper lighting make the space more functional, but it can also be used to create a specific atmosphere or mood.
Ambient lighting, task lighting, and accent lighting are all important elements to consider.
It's also important to consider the overall style and aesthetic of the bathroom. This can range from modern and minimalist, to traditional and ornate.
The key is to choose a style that complements the overall design of the home and reflects the personal tastes of the homeowner.
Lastly, it is important to keep budget and timeline in mind throughout the renovation process. It is important to set a budget and stick to it as much as possible, while also taking into account the time required to complete the project.
This will help to ensure that the renovation is completed on time and within budget.
In conclusion, renovating a bathroom can be a daunting task but by considering these key factors, you can ensure that the end result is both functional and aesthetically pleasing.
Overall, proper planning, budgeting, and attention to detail are crucial to a successful bathroom renovation project.
The Four Main Phases of Bathroom Renovation: Planning, Demolition, Installation and Final Touches
Bathroom renovation can seem like a daunting task, but with proper planning and execution, it can be a rewarding experience. The renovation process can be broken down into several phases, including design and planning, demolition, installation, and final cleanup and decor.
Design and Planning: This phase involves creating a detailed plan for the renovation, including a layout, materials, and fixtures. You'll want to consider the overall aesthetic you're going for, as well as functional considerations like storage and accessibility. It's also important to establish a budget and timeline for the project during this phase.
Demolition: Once the design and planning phase is complete, the next step is to remove any existing fixtures and materials. This can include tearing out old tile, removing cabinetry, and taking down walls, if necessary.
Careful attention should be paid to the structure of the bathroom to ensure that any changes made are safe and in compliance with local building codes.
Installation: With the demolition phase complete, the new fixtures and materials can be installed. This can include installing new tile, cabinetry, and plumbing fixtures. It's important to make sure that everything is properly installed and level to ensure a high-quality finished product.
Final Cleanup and Decor: With the installation phase complete, the final step is to clean up any debris and add any finishing touches. This can include painting, adding trim or molding, and installing any decor or accessories. It's important to take the time to make sure the bathroom is clean and tidy before you consider the project complete.
Overall, bathroom renovation can be a challenging but rewarding process. By breaking the project down into phases and approaching each one with care and attention to detail, you can ensure that your new bathroom is functional, beautiful, and meets all your needs.

Finding a Trusted Professional Contractor for Bathroom Renovation: Tips and Tricks
There are a lot of factors that can affect your decision to renovate your bathroom. Whether it's a matter of fixing up an old, outdated space or making way for something new, there are many different factors you should consider.
We've put together some tips for finding the best bathroom renovation service for your needs:
Research and compare different companies to find one that fits your needs and budget.
Check for licensing and insurance to ensure the company is legitimate and protected.
Look for a company that has a good reputation and positive reviews from past customers.
Request a detailed and itemized estimate to ensure there are no hidden costs.
Discuss the timeline for the project and ensure the company can complete it within your desired timeframe.
Ask to see examples of the company's past work and ask for references you can contact.
Make sure the company you hire is experienced in bathroom renovations and has the necessary skills and equipment.
Discuss your budget and desired outcome clearly with the company to ensure they can meet your expectations.
When everything is considered, you might probably think about what style and designs suit you.
Trending Style for Renovating a Bathroom
Revamping your bathroom can elevate your daily routine and create a more inviting space for both personal grooming and entertaining guests.
If it's been a while since you've updated your bathroom, consider a renovation project to enhance the overall feel of your home. However, with so many renovation options available, it can be overwhelming to decide where to begin.
To help you narrow down your renovation choices, we've compiled a list of the top 10 bathroom renovation trends of the year. From sleek and modern designs to warm and rustic accents, this list has something for every style and budget. Keep reading to discover the latest must-have features for your bathroom renovation project.
Here are the top 10 trends to consider and help you get started:
Walk-in Showers: A walk-in shower can give your bathroom a modern and spa-like feel, and it's a great option for those who have limited mobility.
Floating Vanities: Floating vanities are a great way to create the illusion of more space in your bathroom, and they can be a beautiful design feature.
Freestanding Tubs: Freestanding tubs are a luxurious and elegant addition to any bathroom, and they come in a variety of styles and materials.
Lighting: The right lighting can make a big difference in the ambiance and functionality of your bathroom. Consider adding dimmer switches and multiple light sources.
Heated Floors: Heated floors are a great way to keep your bathroom warm and toasty during the colder months.
Smart Technology: Smart technology is becoming more and more popular in the bathroom, from voice-activated faucets to showerheads that can be controlled via an app.
Natural Materials: Natural materials like stone, wood, and copper can add warmth and texture to your bathroom, and they can be a great way to create a rustic or organic feel.
Black and White Color Schemes: Black and white colour schemes are a classic choice for bathrooms, and they can be a great way to create a sophisticated and timeless look.
Textured Tiles: Textured tiles are a great way to add visual interest to your bathroom, and they come in a variety of materials, patterns, and colours.
Green Plants: Adding green plants to your bathroom can be a great way to bring some life and colour to the space, and it can help to improve the air quality.
When it comes to bathroom renovation, the possibilities are endless. Not only can you choose from a wide variety of styles and trends, but you also have the freedom to create a unique space that expresses your personal taste and flair.
It's important to keep in mind that any bathroom in your home can be renovated, and it doesn't have to match the existing decor and feel of the rest of the house. Instead, consider using materials and colors that complement the overall aesthetic of your home, while still making the bathroom stand out as a distinct and individual space. Additionally, don't forget to consider the functionality and layout of the bathroom, ensuring that it meets your needs and is easy to navigate.

What are you waiting for? Renovate your bathroom now! Call team Zzone Homes Inc today!
When it comes to renovating your bathroom, you want to ensure that the job is done right. At Zzone Homes Inc, we pride ourselves on providing top-notch service and quality workmanship.
Our team is fully in-house, meaning we don't subcontract any aspect of the renovation process. We have been serving the greater Hamilton area for nearly 2 decades, specializing in bathroom renovations. Our experienced team is ready to help you create the bathroom of your dreams. Don't leave your bathroom renovation in the hands of just anyone.
Trust our team of dedicated professionals with decades of experience to get the job done right, on time and on budget. Contact us today to start your bathroom renovation project!
Conclusion
We hope this post has been helpful. If you'd like to learn more about our services, please contact us today! We're excited to get started on your bathroom renovation project, and we can't wait to hear from you.
Read More