How Long Does a Basement Renovation Take?
When you are considering renovating your basement, one of the first questions you are likely to ask is How long does a basement renovation take? This is a valid question, as a basement renovation can be a major project. In this blog post, we will explore what goes into a basement renovation and how long it typically takes. We will also look at the steps involved in carrying out a basement renovation, so that you can have an idea of what to expect. With that said, let's get started!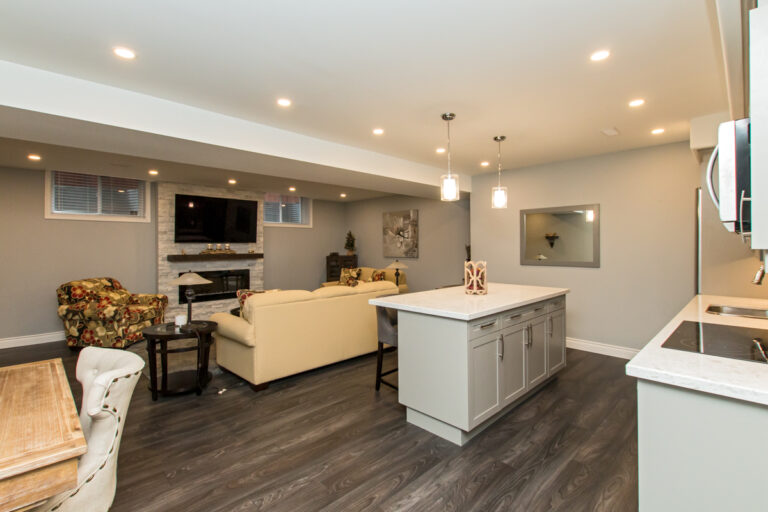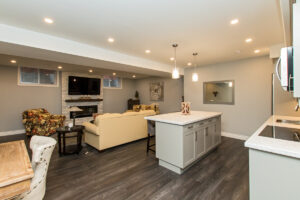 What is a Basement Renovation and What Does it Consist of?
A basement renovation is a home renovation project that is geared to improve the condition of your basement. This may involve making structural changes, such as waterproofing or installing new supports or it may also involve cosmetic changes, such as painting or installing new flooring. The scope of a basement renovation will depend on the condition of your basement and what you hope to achieve with the project. Most typically a basement renovation can include the following focuses:
Basement design

Wall, room, staircase, and ceiling construction

Flooring and subflooring installation

Shelves and built-in cabinets installation

Closet and storage room construction

Painting and decoration
How Long Does a Basement Renovation Take?
The length of time that a basement renovation takes will also depend on the scope of the project. A small, cosmetic basement renovation may only take a few days or weeks to complete. However, a more substantial basement renovation, such as one that involves making structural changes, may take several months to complete. On average though most basement renovations take between 4-6 weeks to complete.
What is the Process for a Basement Renovation?
Initial Assessment and 3D Design
The first step in any basement renovation is to assess the condition of your basement. You will need to determine what needs to be done in order to improve the space. This may involve doing some research or consulting with a professional contractor. Once you have a clear understanding of the work that needs to be done, you can begin to develop a plan for your basement renovation. This is usually done through drafting a 3d design of the future basement which can help put ideas into a visual format for you to review.  At this stage, your feedback is critical as you want to make sure that your basement renovation company and yourself are on the same page when it comes to your expected and desired aesthetic/functionality of your envisioned basement.
Framing
Once you have finished the 3d design and assessment, the next step is to start framing the basement. Framing reshaping the basement room, installing gas lines, HVAC runs and water lines. This process takes around 1 week to complete.
Electrical and Plumbing Work
After the framing is completed, the focus shifts to electrical and plumbing work. Alongside your renovation company they will also work with plumbers to install outlets, light switches, plumbing lines, drains and run wires to box locations. Making sure your electrical system is key to having a functional basement. This process will take around 1 week to complete. After the electric and plumbing, work on the HVAC system begins. The contractor will collaborate with an HVAC specialist who will properly size and install the heating and cooling units for your basement. They need to be installed according to local building codes for your safety.
Drywall and Ceiling Installation
After all the essential systems have been installed, it's time to start working on the drywall. The contractor will hang and finish the drywall and install the ceiling tiles. This is a messy process but it needs to be done in order to have a smooth and clean finish for your basement. The drywall process usually takes around 3-6 days to complete.
Painting
After the drywall is finished, the final cosmetic touch is painting. You will need to decide on a paint color or colors for your basement. Once you have made your selection, the contractor will begin painting the walls and ceiling. Painting usually takes around 2-3 days to complete.
Flooring, Trim and Finishing Touches
Once the drywall is complete, the contractor will install the flooring of your choice. This may be carpet, hardwood, laminate or tile.  Once the flooring is installed, they will add baseboards, crown molding and any other trim work that you have selected. Finally, they will install doors, light fixtures and any other finishing touches that you have chosen. This process usually takes around 1-2 weeks to complete.
Conclusion
In conclusion, the length of time it takes to complete a  basement renovation depends on the size and scope of the project. A simple basement renovation may only take a few weeks to complete, while a more complex project may take just upwards of a month's time. If you are planning on renovating your basement, be sure to do your research and have a clear budget in mind. If you reside within Hamilton, consider checking out our Basement Renovations Hamilton services. You can also contact us today to book a discovery call or checkout our Google Reviews by clicking here.
With all that said, Happy Renovating!
Thanks For Reading!
We hope this article was helpful. For more info, feel free to check out some of our other blog posts down below!
Additional Resources
To learn more about our services that we offer at Zzone Homes check out the resources down below!