Are you feeling overwhelmed by the clutter and chaos of the holiday season? Don't worry; you're not alone! We have some excellent storage solution ideas to share with you. Between gift-giving, decorating, and hosting parties, it's easy for your home to become cluttered and disorganized. But don't let the stress of the holidays get you down. With a little bit of planning and some clever storage solutions ideas using custom cabinetry, you can keep your home feeling organized and festive all season long.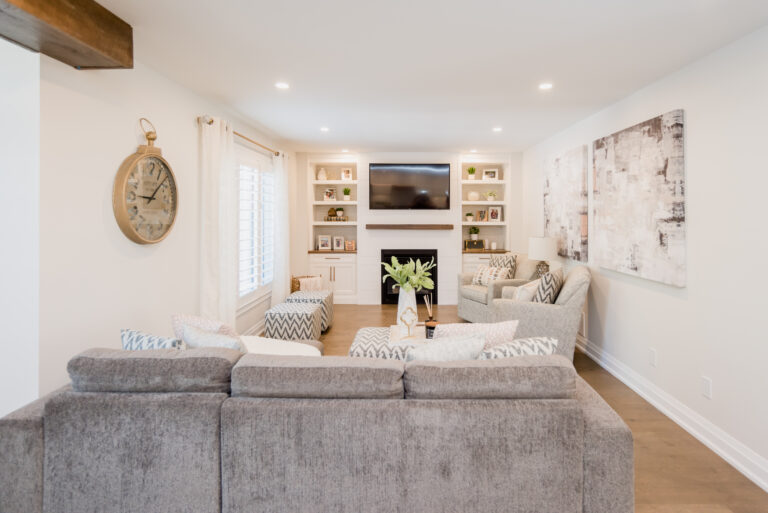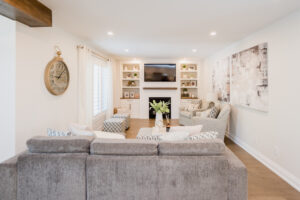 Custom Wall Unit Storage Solution: The Perfect Gift idea for the Neat Freak in Your Life.
Are you tired of tripping over piles of toys and stumbling upon hidden messes in every corner of your home? It's time to unwrap the gift of organization with a custom wall unit organizer! These amazing space-saving storage solution ideas are like Santa's helpers, here to save the day (or at least, your sanity). Imagine a world where all your belongings have a designated spot and your home is free of clutter – it's a holiday miracle!
But seriously, a custom wall unit organizer is the perfect way to make the most of your space and bring some order to the chaos. With plenty of room for all your stuff, including those new toys, the kids will love it; you'll be able to keep everything neat and tidy, no matter how hectic things get. And the best part is, these organizers can be tailored to fit your specific needs and style, so you can create a space that's both functional and festive. Want to make your living room even cozier this holiday season? You can even incorporate a gas or electric fireplace and a big-screen TV into your custom wall unit organizer. So don't let clutter ruin your holiday cheer – invest in a custom wall unit organizer today and start enjoying a clutter-free home just in time for Christmas.
Sitting on Style: How a Custom Storage Bench Can Transform Your Space and Make for a Great Solution to Fix Clutter. 
If you're tired of cluttered kitchens and living rooms, it might be time to consider a custom storage bench. These practical and stylish pieces of furniture can be designed to fit your specific needs and style, providing ample room for all your belongings while also serving as a comfortable place to sit. Whether you need a spot to store seasonal items or an extra seat for guests, a custom storage bench can be a great addition to any home.
Not only do custom storage benches offer a great hidden storage solution, but they can also add a touch of interior design style to your space. Imagine having a beautiful, handcrafted bench in your kitchen or living room that not only serves as a functional piece of furniture, but also enhances the overall look and feel of your home.
So if you're interested in adding a custom storage bench to your home, consider consulting with a professional to discuss your options and find the best solution for your needs. With a little planning and creativity, a custom storage bench can truly transform your space and make it a more functional and stylish place to be.
"Maximizing Storage and Organization with Built-In Cabinetry: The Perfect Storage Solution for Kids' Toys, Seasonal Items, and Holiday Gifts"
Are you tired of the constant clutter and disorganization in your home? These storage idea solutions will help you get your space in order. Built-in cabinetry is a great option for those looking for a more efficient and practical way to store their belongings. These custom cabinets and built-in shelves not only add a touch of style to your home, but they also provide a designated spot for everything from kids' toys to holiday gifts. With built-in cabinetry, you can say goodbye to cluttered rooms and cluttered minds, and hello to a more peaceful and tidy living space. Start enjoying the benefits of organized and streamlined storage with built-in cabinetry today!
"Mudroom Makeover: From Messy to Marvelous in No Time Flat – Extra Storage cabinets, Easier Days, and a Boost in Value for the Whole Family"
Is your mudroom more of a mess room? It's time to give this often-neglected space the attention it deserves and transform it into a storage powerhouse with the implementation of storage solution ideas. Custom cabinetry can be used to maximize the space and create a functional, stylish mudroom that fits your specific needs and preferences.
Here are just a few decluttering strategies and highlights you can expect to see in your newly renovated mudroom:
Custom shelving and cabinets for storing all of your outerwear, shoes, and other gear
Hooks and baskets to keep everything organized and easily accessible
A durable, easy-to-clean floor to withstand all of the muddy boots and wet umbrellas
Comfortable seating for taking off or putting on shoes
A designated space for mail, keys, and other household essentials
Not only will this upgrade add value to your home, it will also make your daily routine a breeze with all of your essentials at arm's reach. Plus, your kids will thank you for the extra storage and easier days too. So don't wait any longer, start planning your mudroom makeover with storage solution ideas today!

Transform Your Under-Stairs from Drab to Fab with Custom Pull-Out Drawers: The Ultimate Storage Solution ideas for Stashing Your Holiday Cheer (and Decorations)
Are you looking for some innovative storage solution ideas? Look no further! A space-saving concept you will love is custom under-stair pull-out drawers. These excellent storage solution ideas are specifically designed to fit into the often-underutilized space under your stairs, providing a stylish and organized place to store all of your holiday decorations. No more playing hide and seek with your festive goodies or dealing with cluttered corners and overflowing closets. With these custom drawers, you can easily access your tree and seasonal decorations without any hassle. Not only are they practical, but they also add a touch of sophistication to your home. Don't let storage stress ruin your holiday fun – invest in these custom under-stair pull-out drawers and bring some cheer to your storage situation.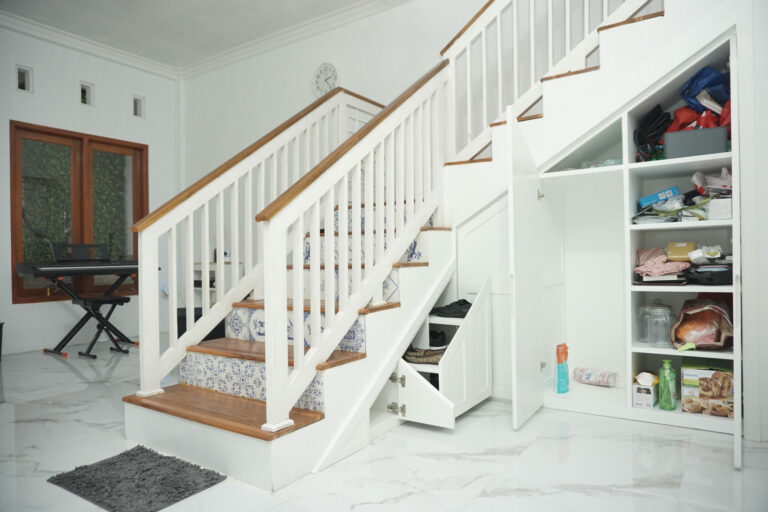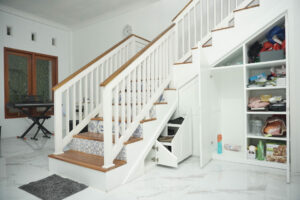 "5 Storage System Solutions ideas for a Tidier and More Festive Home: A Holiday Wrap-Up."
As the holiday season comes to a close and we begin to transition into the new year, it's natural for our homes to feel cluttered and disorganized with all the gift-giving and celebrating that comes with the end of the year. But as we look towards the future and start to think about resolutions and goals for the new year, now is the perfect time to implement some storage solutions to help bring order to the chaos. Whether it's custom wall unit organizers, storage benches, built-in cabinetry, or underbed storage boxes, there are plenty of options to help you make the most of your space and keep your home looking tidy and organized. So as you say goodbye to the old and hello to the new, don't let the stress of clutter ruin your holiday cheer. Get organized and start the new year off on the right foot with some smart storage solutions. Happy organizing!
"We would love to help with your new Storage Center."
Thanks for considering Zzone Homes Inc and our in-house cabinetry division, Sharp Cabinetry, for your home improvement needs. If you're located in the Hamilton or Halton region and are looking for more storage solution ideas, we're here to help! Give us a call or check out our Google Reviews by clicking here. We can't wait to hear from you and help make your home the envy of the neighbourhood.
We are located in Stoney Creek Ontario and Service the Hamilton-Wentworth, Halton Region and Niagara Area. Book a Call Today or Visit by appointment.